REGULAR CLASSES
Trained in PARIS, NEW YORK, LONDON and LOS ANGELES and holder of the state diploma of dance teacher. She mainly teaches technical classes (placement, turns, jumps, performance, …), contemporary jazz, commercial street dance.
Sabrina Lonis trains young dancers to become professional dancers, amateurs wanting to reach a good level, dancers being professionalised but also professional dancers wishing to maintain and deepen their technical skills.
Regular Classes & Open Classes
THE GOURNAY DANCE ACADEMY (Admission upon Audition)
[High level dance school]
Dance teacher from Monday to Friday for dancers from 8 years old.
THE CENTER OF LIVING ARTS / CHOREIA:
[Vocational Training School for the Dance Profession]
Referring teacher of the "Choreia Intensive Program" training, multidisciplinary high level training for dancers. (Admission upon Audition)
Teacher for students in state dance teacher training curriculum
Teacher for dance workshops "MASTERCLASS" regularly. (Course open to all)
Website: https://www.lecentredesarts.com/
LAX STUDIO PARIS
[Dance school mainly attended by professional dancers]
Dance teacher in regular class "Contemporary – Technique Pro" (Course open to all, every 15 days)
Regular dance workshop (dance course open to all)
Website: https://laxstudio.fr/
"For me, it is important to be multidisciplinary because in dance everything is linked"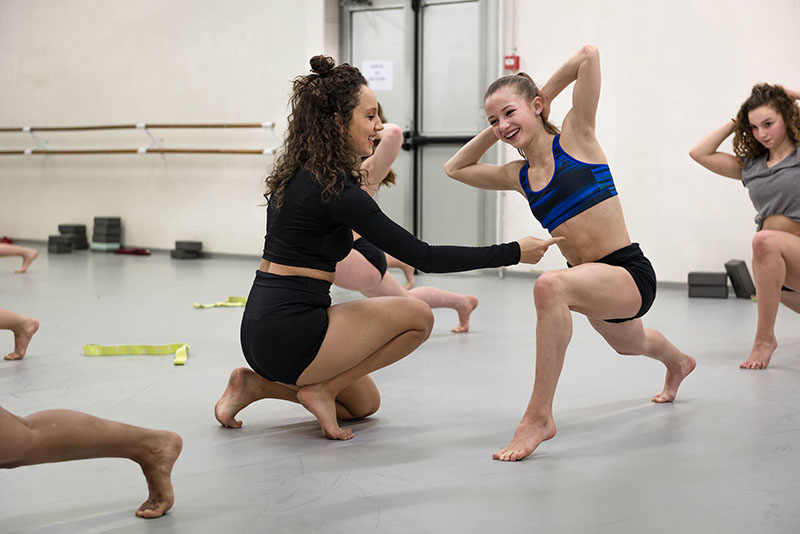 Course sequence
The course begins with a technical bar focusing on the mobility of the spine and the construction of strength in the lower limb and center, as well as stretching in the breathing. Then there is an exercise in the middle or a crossing followed by a variation in the chosen discipline.
Dance lessons with Sabrina are primarily based on performance and body qualities. For her, dance is a way of expression where one can transmit an emotion through the body and share a universe.
To be able to bring out the best of each student, Sabrina ensures a rigorous but pleasant atmosphere in the course
Competition preparation
Sabrina Lonis presents every year numerous solos, duets and groups in regional, national, European and international competitions.
The dancers get very good results every year with sometimes special prizes or internships offered to encourage them in the dance.
Most regular dance classes (from the intermediate level) participate in at least one competition in the year adapted to the level of the group.
The high level competitions are reserved for the solo competition class (audition in September), international competition class, junior company and One Stage Performance (audition in June).
It is also possible to prepare as a free candidate with private lessons.
"It is important that each student has confidence in him/her, that he/she does not feel judged because it is at this moment that he/she dares to let go and makes tremendous progress"